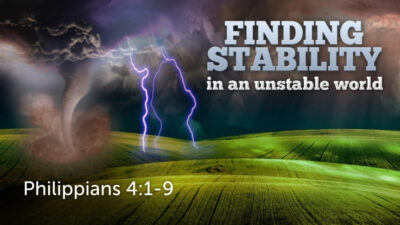 NOTE FROM PASTOR J R FOR SUNDAY, OCTOBER 15, 2023 
          This Sunday is the 8th Sunday of Kingdomtide.  It is also the day of Covenant's annual congregational meeting.  I encourage all members to please join us either in person or by Zoom for this important meeting.   
          The sermon emphasis will again come from assigned text from Philippians.   Chapter 4, verse 1 says, "Therefore, my brothers and sisters, whom I love and long for, my joy and crown, stand firm in the Lord in this way, my beloved." 
          The 'therefore' in this verse is predicated on all Paul has previously said in this Epistle.   A summary of which Paul is encouraging "Christ's followers" to be able to rejoice in all circumstances.  How is that possible when sometimes the circumstances before us are so gut-wrenching awful? Look no further that the current crisis in the Middle East.  What is there to rejoice in?  Paul does not mean "to rejoice" as in being happy.  No!  Paul is speaking of rejoice in our trust and confidence in God to stand firm in God even when confront with these horrors.    
But; how do we stand firm in the Lord in those situations?  In Philippians 4:6-9, Paul gives this advice in doing so; "don't worry, pray, and give thanks."  For in doing so, "God's peace, a peace that passes understanding will guard our hearts and minds."  Paul doesn't tell us to avoid it and it's impossible to not think about the injustices and inhumanity we are confronted with in these uncertain times, horrible situations and challenging circumstances.    
However, if we focus our thoughts on things that are true, honorable, just, pleasing, and commendable, we will develop the ability to be "Standing Firm with A Grateful Attitude." 
Join us at Covenant for worship this Sunday in-person or by ZOOM, Facebook Livestream, or YouTube.  I will be exploring this idea more in my sermon "Standing Firm with A Grateful Attitude," based on"Philippians 4:1, 4-9."   
NOTE:  Members, please join us in-person or by Zoom for our Annual Congregational Meeting at 2:00PM.
About Author