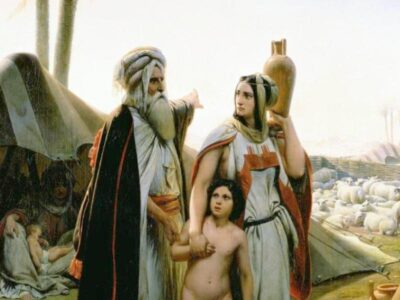 NOTE FROM PASTOR J R FOR SUNDAY, JUNE 25, 2023 
          Today is the Fourth Sunday after Pentecost and the last Sunday of Pride Month. It is not unusual for members of our community to have baby daddy issues with their fathers.   
          On the Friday before Father's Day, I talked to a member of the church deeply hurt by the actions of her father.  She had felt that there had been much improvement in their relationship.  She was planning on going to visit him for Father's Day.  During Pride Month, she made a social media post about the greatness of God's love for everyone.   Her father wrote a snarky extensive comment alluding to her sexuality as sinful, creating issues for her being his daughter.      
          Baby Daddy issues are nothing new.  We see it in the assigned text this week from Genesis 21 with Abraham, Hagar and their son, Ishmael.  We also see it in the backstory with Abraham and Sarah's son, Isaac.  One of the problems in studying such stories from the ancient text of the Bible is that we bring to it our current understandings of culture and morals.  That often causes us to interpret the stories accurately.     
          Abraham and his babies' mamas lived in a very primitive culture before any of the biblical laws we know were ever given.  Yet we find in Abraham amazing, deep abiding faith AND trust in God.  We see it reflected in the stories of Abraham's baby daddy issues with both sons, Ishmael and Isaac.  And it is a faith that we can be inspired by and learn from still in 2023. 
          So, join us for worship this Sunday at Covenant, in-person, by Zoom or Facebook Livestream to hear more about it.  My sermon title is "Abraham's Baby Daddy Issues" or "God of Radical and Extravagant Love, Part 2" based on "Genesis 21:8-21." 
About Author