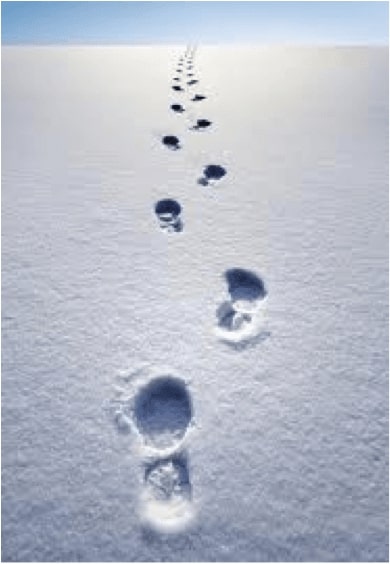 NOTE FROM PASTOR JR FOR SUNDAY, JANUARY 22, 2023 
This Sunday is the "Third Sunday after the Epiphany."  In the assigned gospel text of Matthew 4, Jesus tells two of His first prospective disciples to "Follow Me."  It is a call and challenge for them in "changing directions."  "Changing directions" for those first disciples meant leaving their lives as fisherman by trade and following the uncharted, unfamiliar paths of walking with Jesus.  Sometimes that might happen to those choosing to follow Christ today.  However, more likely, "changing directions" for most of us will mean following in the steps of Christ spiritually while keeping the occupations we already have.   
          Writer Mike Green shares a wonderful visual in a story he tells about a father and his child walking across a field covered with freshly fallen snow.  The father pays no attention to where he is going, but his child, on the other hand, follows directly behind, making a special effort to step in the father's footprints.  After the 2 have crossed the field, there is only one set of tracks visible, although two people had walked across it.   
          Obviously, after "Changing Directions" still none of us follow Christ perfectly; nor did Jesus' first disciples.  But I hope this little story is a great visual and reminder that we ought to be following the example of Jesus as closely as possible. I often remind us that "it's not all about you or me."  So, let's remember that whether in times of suffering, sorrow or need or whether in times of health, joy or abundance — if someone were to observe the snow-covered field of our lives, they will see the important set of tracks that we are trying to follow in, those of Christ!  I pray that for you and those who see you on your life's journey or those you influence, your "Changing Directions" to follow Christ will be seen.   
Join us for worship at Covenant this Sunday in-person, on Zoom or Facebook Livestream or later via YouTube.  My sermon will be "Changing Directions" based on "Matthew 4:12-23." 
About Author