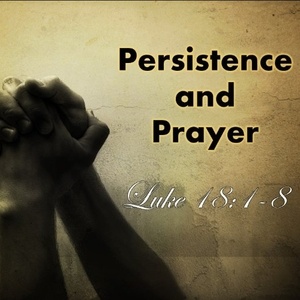 NOTE FROM PASTOR J R FOR SUNDAY, OCTOBER 16, 2022 
This Sunday is the Eighth Sunday of Kingdomtide.  The assigned gospel reading is Jesus' story at the beginning of Luke 18 of "The Parable of the Persistent Widow."   
Luke introduces Jesus' telling of this story by saying, "One day Jesus told His disciples a story to show that they should always pray and never give up." (v. 1) Then in telling them the story, Jesus tells the disciples to "learn a lesson from the unjust judge." (v.6) The lesson is that God who loves us is more faithful, more responsive, and more reliable than an unjust judge to do the right thing with the wrong motivation.   
So, as I pondered a preaching angle on this parable, an old colloquialism or saying kept popping up in my mind.  The old saying was "You Can Take It To the Bank."  Now that old saying for a time in the past; a time when banks, unlike today, were trusted and reliable institutions located within the community.  Therefore, when people employed this old saying into their speaking, it was to emphasize that you can believe and rely upon a particular statement or piece of information of which they were speaking as absolute truth.  Nowadays, you rarely if ever, hear this old saying because banks are no longer locally owned and operated, nor are they reliable and trusted institutions within our communities.   
But if they still were, the point Jesus is making with this parable would definitely be one whereas "YOU CAN TAKE IT TO THE BANK…" my sermon title this Sunday. 
So, join us in-person, by Zoom or Facebook Livestream."  I will be using this "Parable of the Persistent Widow," from "Luke 18:1-8" to highlight 3 things about God's interactions with us on which "You Can Take 'IT' to the Bank."   
NOTE:  MEMBERS, PLEASE JOIN US IN PERSON OR BY ZOOM 
FOR OUR ANNUAL CONGREGATIONAL MEETING 
THIS SUNDAY, 1:30 PM 
About Author