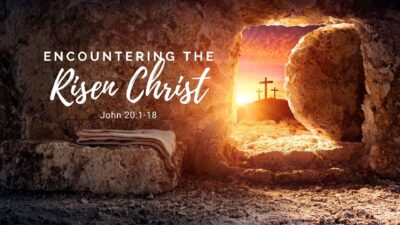 NOTE FROM PASTOR J R FOR SUNDAY, APRIL 17, 2022 
          This Sunday is Easter!  After Palm Sunday, when what was thought to be a triumph, but was for those involved a tragedy; through Maundy Thursday and Good Friday, the Passion of Christ ending with crucifixion; it's time for "A Celebration of the Resurrection."   
          Most people think Easter and Christmas are the easiest sermons to prepare.  NOT!  After 2000 years, there are not a lot of new angles on the birth of Christ or Jesus' death on the cross and resurrection.  But we keep re-reading the stories looking.  However, this year, in the resurrection account assigned from John 20, my thoughts keep focusing in on Mary Magdalene.  In the garden when she turns and sees Jesus, in her excitement, all the pain and heartache of the last few days dissipate as she cries out "Teacher!"  Verse 18 says then, "Mary Magdalene went and announced to the disciples, "I have seen the Lord. …"    
It was then I thought how we often speak of the list of questions to ask or things we want to finally understand when we see Jesus face-to-face.  Something in me believes that is foolish musing on our part. For when we finally see the Resurrected Jesus, our excitement will be the same as Mary Magdalene's.
An old African American song sums up what I believe our reaction will be.  It says,
"When I see Jesus, 'Aman,' When I see Jesus, 'Aman!'" 
When I see The One who died for me, and The One who set me free. 
All of my trials, all of my disappointments, they will all be over. 
When I see Jesus, Aman!" 
          Easter is a wonderful time to join us IN-PERSON for worship.  You can also join us by Zoom or Facebook livestream.  We will have a special guest organist and soloist.  We will receive someone into membership.  And based on "John 20:1-18," my sermon will be "Easter!  He Lives!  And when I see Jesus, Amen!"
About Author