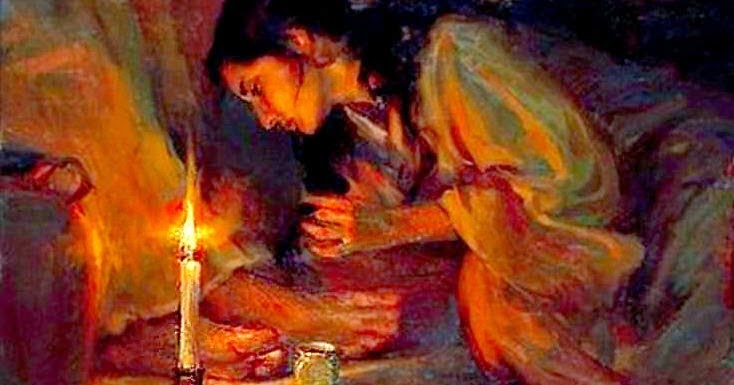 NOTE FROM PASTOR J R FOR SUN DAY, APRIL 3, 2022 
          This Sunday is the Fifth Sunday IN Lent.  The following Sunday will be Palm/Passion Sunday the beginning of Holy Week, which of course, culminates with remembering The Resurrection of Jesus on Easter.
 The assigned Gospel text for this Sunday is the first 8 verses of the Gospel of John, chapter 12.  They tell of an event that happen just prior to the beginning of that first Holy Week.  Jesus and His disciples are visiting some friends in a village called Bethany, (two sisters named Mary and Martha and their brother, Lazarus, whom Jesus had raised from the dead.)  The first 3 verses speak of Mary's extravagant gesture toward Jesus (anointing Jesus' feet with expensive perfume and wiping His feet with her hair.)  The next 5 verses speak to Judas' criticism and the motive behind his criticism toward Mary's extravagant gesture.
          Culturally, the extravagant gesture speaks for itself.  However, the Gospel writer makes sure to put Judas' criticism in context as well as ensures that underlying motive, his criticism is known.  It's the juicier part of the assigned reading.  Unfortunately, many will spend their time and efforts on that part of the text, while the importance of Jesus' last statement is overlooked or incorrectly interpreted.  In v.8, Jesus says, "You always have the poor with you, but you do not always have Me."  Jesus is in no way saying we should NOT address the issues of poverty as the false criticism of Judas notes in his criticism of Mary's extravagant act.  It's just that sometimes it's okay to be extravagant toward other good causes.  And if being extravagant toward Jesus is not a good cause, then there is no such thing as a good cause.
          Join us for worship this Sunday, IN-PERSON, by Zoom or Facebook Livestream.  Our special musical guest will be Violinist ~ Jonathan Wise, we have another baptism this week, and I will be sharing about sometimes "When It's Okay to be Extravagant," (my sermon title), based on John 12:1-8.