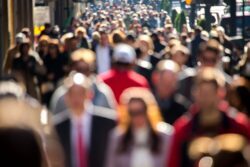 This weekend is Independence Weekend. We are celebrating the 244th anniversary of our nation's independence and freedom. The COVID-19 pandemic will alter the manner we celebrate from large gatherings of picnics and fireworks to smaller intimate gatherings that include mask wearing and social distancing,
Since we will be commemorating this holiday differently this year; perhaps it's a good time to take a glimpse at our nation's promise of freedom from a perspective totally different from our experience. With cries for equality and justices from the LGBTQ+ community and people of color, it would be good for us to view the American promise of freedom by "walking a mile in someone else's shoes."
The admonition to walk a mile in someone else's shoes means that before judging someone, you need to understand that person's experience, challenges, and thought processes that has formed that person's perspective. It is important that we do this to be able to understand the hope and passions of others. Only after doing this can we really appreciate and come to really believe how "Real Freedom Upholds All."
After doing this, we need to look to the Divine as our example. And we must allow the Holy Spirit to lead us beyond simply believing in "Real Freedom That Upholds All," to finding a way to be a voice and instrument of God's choosing in making freedom and independence a reality for everyone.
The Psalmist shares the example of God's priority for every person to experience "Real Freedom That Upholds All." V.9, "The Lord is good to all, and His compassions over all that He has made." v. 14, "The Lord upholds all who are falling, and raises up all who are bowed down."
Join us for worship this Sunday of Independence Weekend by Zoom or Facebook livestream at 11:30 am. I'll let you see from my perspective as an African American my experience in pursuit of "Real Freedom That Upholds All" based on Psalms 145:8-14 and Matthew 11:25-30.
About Author