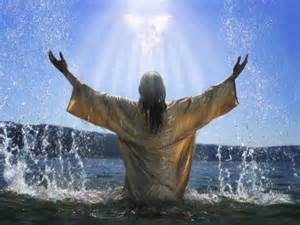 NOTE FROM PASTOR JR FOR SUNDAY, JANUARY 9, 2022 
This second Sunday of this New Year is observed liturgically as the "First Sunday after the Epiphany," and also as the "Baptism of our Lord Sunday." 
It has been said that "baptism is an outward sign of an inward spiritual reality."  True, but not all Christians agree on the parameters of that spiritual reality.  Scriptures make the best case of baptism being a human public response to God's extravagant invitation to walk in fellowship with our Divine Creator.  It teaches us that humans were created for fellowship with God and repeatedly reminds us of the many ways and opportunities God offers us to accept this extravagant invitation.
However, it seems that human nature is prone to lace these wonderful opportunities of grace with that which is negative and condemnatory.  The metaphor in Luke 3:17 is often used in such a way as negative teaching and doctrine on baptism.  It reads: "The shovel He uses to sift the wheat from the husks is in His hands.  He will clean out His threshing area and bring the wheat into His barn.  But He will burn the husks with a fire that can't be put out."
If we are going to understand baptism as the wonderful means of grace it is as intended by God, we need to revisit this passage of scripture.  So, this Sunday, I am going to try and help us look at this verse with fresh eyes, and a new perspective to help us move away from unscriptural, negative, and condemnatory images attached to baptism.
My aim is to help us accept and live out the intent of baptism an outward response to God's extravagant invitation to walk in fellowship with the Divine, enjoying the journey with all its wonders, privileges, and benefits.
Join us this Baptism of our Lord Sunday, by Zoom or Facebook Livestream for an opportunity for the reaffirmation of your baptismal vows.  My sermon is "Baptism:  A Response to God's Extravagant Invitation," based on Acts 8:14-17 & Luke 3:15-17, 21-22.