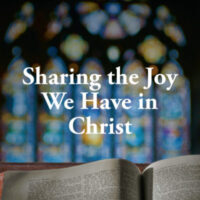 NOTE FROM PASTOR JR FOR SUNDAY, JULY 25, 2021 
The scriptures during the Sundays after Pentecost have concentrated on us growing our spiritual maturity as individuals and as a congregation.  As part of that growth for our church, this Sunday, I will conclude a 3-part sermon series on Covenant's Vision Statement; "To be an inclusive community of faith – Offering Hope + Showing Faithfulness + Sharing Joy."
          Simultaneously, in the Life Lessons on Wednesdays, I have been teaching ways of demonstrating appreciation to folks who have been loyal to us during the tough times in their efforts.  Since we have returned to in-person worship, I have tried to model this kind of appreciation to difference makers within our Covenant family.  This past Wednesday evening, I said this about the appreciation we need to show to others.
1)  It needs to be real.  Romans 12:9 (LB) says, "Don't just pretend that you love others, really love."   
2) It also must be recognizable which means it needs to be clear and specific.   Proverbs 12:25 say, "A word of encouragement does wonders!"   
3) It needs to be regular.  Galatians 6:20 (LB) says, "Whenever we can, we should always be kind to everyone, and especially to our Christian brothers and sisters." 
          As I conclude my sermon series this Sunday, I will also invite those present to demonstrate "Sharing Joy" by writing a note to our oldest Covenant member, Gene Aaron, on a card provided.  Until moving into a nursing home, right before the pandemic, 92-year-old Gene was faithful in attendance and service in the choir for many years.  I will take the notes to Gene in Cullman on Monday.  If you can't be at church Sunday, mail a note for Gene to the church and we will make sure he gets it.
So, please join us at Covenant either in-person, by zoom or Facebook Livestream for worship this Sunday.  My sermon is "Part 3: The Vision is Sharing Joy" based on John 6:1-14.